CLICK HERE TO REGISTER YOUR APPOINTMENT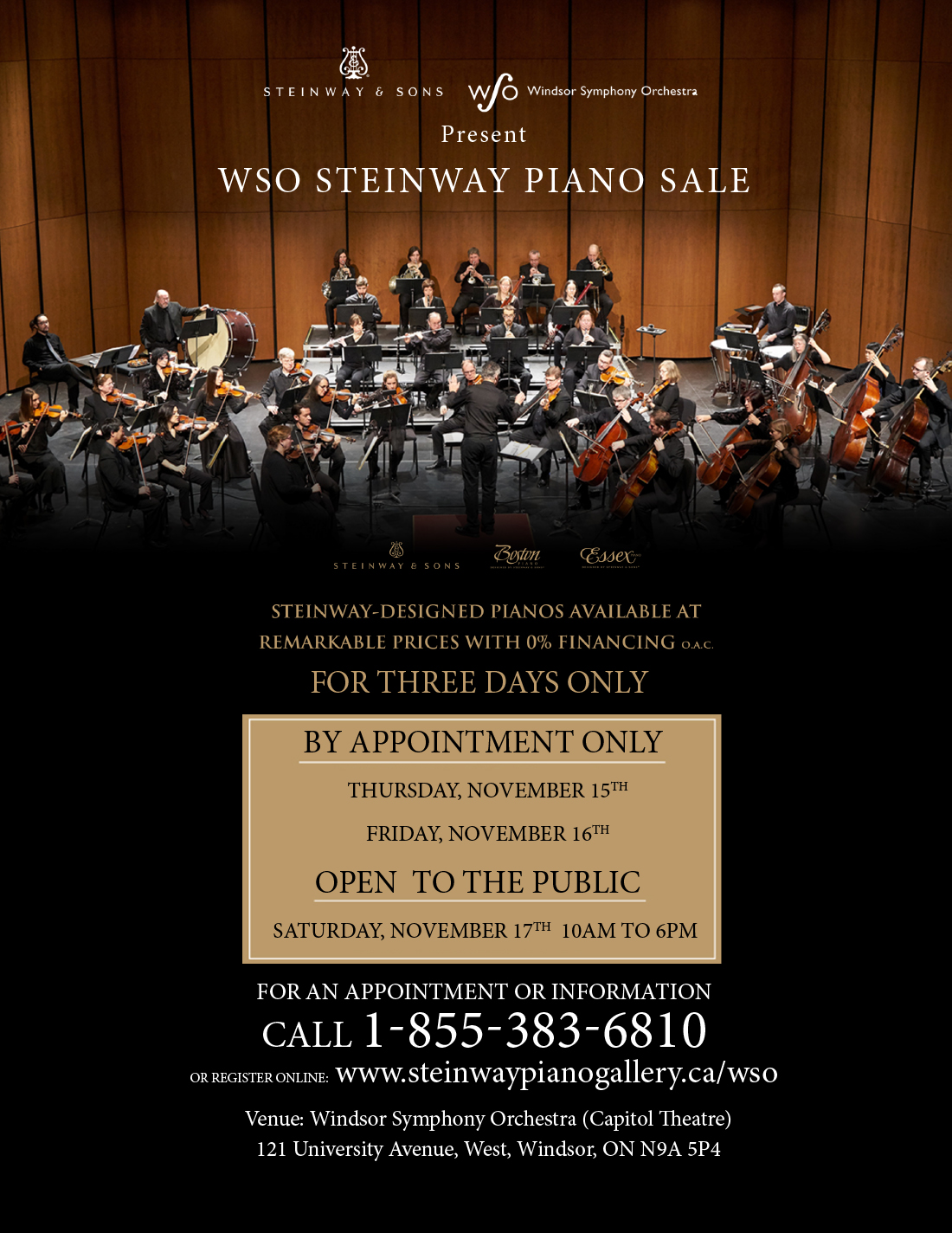 November 2, 2018
Dear Windsor Symphony Orchestra Patron,
I am pleased to extend to you a private invitation to a very special event.

The Windsor Symphony Orchestra has partnered with Steinway & Sons to provide you with a remarkable opportunity to acquire a Steinway designed piano at a substantially reduced price and support the Windsor Symphony Orchestra at the same time.
For three days only, an impressive selection of Steinway pianos will be available for sale at the Capitol Theatre. Steinway pianos are rarely discounted, but through this extraordinary arrangement, you will have access to prices far below retail value. This exclusive sale is open to WSO patrons and customers. A selection of Steinway & Sons upright and grand pianos will be available in a variety of sizes and finishes. In addition, there will also be a selection of new Steinway designed Boston and Essex pianos and available in all price ranges, styles and finishes.
Access to this private sale is by appointment only, from Thursday November 15th to Friday November 16th, 2018, and to the public from 10am to 6pm on Saturday November 17th at the Capitol Theatre, 121 University Avenue, West Windsor, ON N9A 5P4. Those who book private appointments will receive exclusive additional savings.
For information or to schedule an appointment, please call 1-855-383-6810
or visit www.steinwaypianogallery.ca/wsosale to register online.
In addition to the savings that you will enjoy, a portion of the proceeds will directly benefit the Windsor Symphony Orchestra, enabling to continue to bring your community together through the power and passion of music. If you have ever considered owning a fine piano, I hope you will take advantage of this unique offer.
Yours sincerely,
Sheila Wisdom
Executive Director, Windsor Symphony Orchestra
CLICK HERE TO REGISTER YOUR APPOINTMENT