Duo Turgeon Masterclass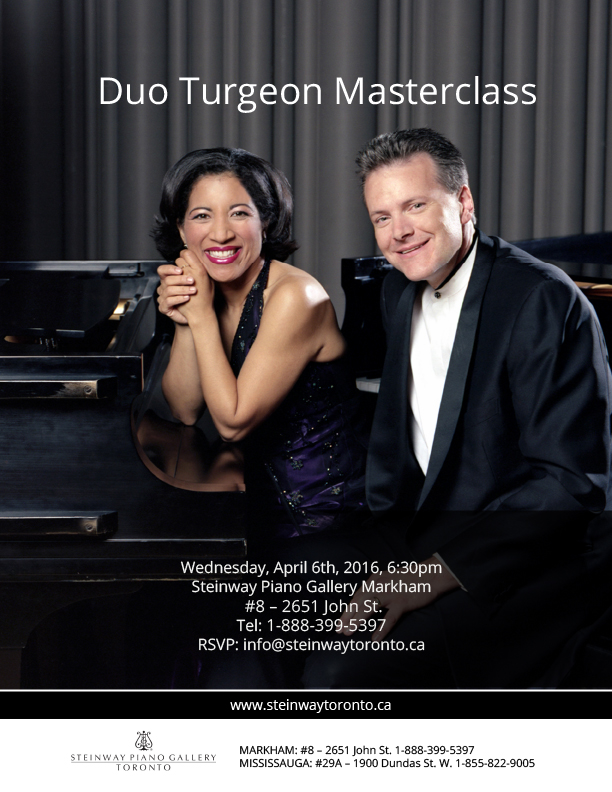 Duo Turgeon biography
The year 2015 marks the 20th year of music-making and 25th wedding anniversary for Canadian pianists Anne Louise-Turgeon and Edward Turgeon. Their musical collaboration began with encouragement from James Anagnoson (Dean; Glenn Gould School, Toronto) and the late Karl Ulrich Schnabel, who, upon hearing the Turgeons perform a Brahms piano concerto in Hamilton, Ontario, invited them to a special masterclass and subsequent private coachings in New York City. The Turgeons received additional mentoring from Peter Serkin.
Duo Turgeon entered the International Schubert Competition for piano duos (Czech Republic, 1995) and the Murray Dranoff international Two Piano Competition (Miami, 1997), taking first prize in both events. Duo Turgeon is the only Canadian piano duo to have won both competitions, the latter considered the most prestigious competition for piano duos in the world. These successes led to debut performances at Carnegie Hall and the Concertgebouw of Amsterdam, as well as hundreds of engagements including such series as San Francisco International Music Festival, Montreal International Duo Piano Festival, Duettissimo (Minsk), Norfolk Chamber Music Festival, Ford Center for the Performing Arts, Isabel Bader Centre, Massey Hall, Yong Siew Toh Conservatory (Singapore) concert tours of Europe, Russia, and several recordings including those for Marquis/EMI, Albany and Vanguard Classics, several of which have received 5 out of 5 star ratings from CBC's "Sound Advice" and "La Scena Musicale". The Turgeons have been heard on classical radio stations throughout the world including CBC, BBC, ABC (Australia), Public Radio International, NPR, and PBS. They are featured in the television documentary "Two Pianos – One Passion", which airs on PBS affiliate television stations throughout North America. Strong advocates of new chamber music for four hands at one or two pianos, they have given world premiere performances of works by noted composers including Aaron Copland, John Corigliano, Libby Larsen, Derek Charke and Alex Pauk, while appearing with the Esprit Orchestra (Toronto) and the New World Symphony Orchestra for performances of new music for two pianos. Upcoming world premieres include compositions by Derek Charke and Martin Bejarano.
The Turgeons have appeared in many festivals, including repeat visits to those in Russia, Asia, Europe, and throughout North America. Recent engagements include a repeat visit to San Francisco International Music Festival and a U.S. State Department Fulbright sponsored visit to Europe for special performances and masterclasses.
Passionate in their commitment to the next generation of young musicians, the Turgeon's thirty years of teaching experience have included positions at Yale University, Mount Holyoke College, the Harid Conservatory of Music and Florida Atlantic University. They currently serve as Artists in Residence and faculty members at Algoma University and the Algoma Conservatory of Music in Sault Ste. Marie, Ontario, where Edward also serves as Chair of Music for Algoma University's Music Department.
The Turgeons have served as senior examiners for the Royal Conservatory of Music since 1990. Their students have taken top prizes in regional, national and international competitions, as well as awards for highest grades on Royal Conservatory examinations. In addition, their students have gained admittance to prestigious music schools such as Indiana University, Eastman School of Music, Juilliard School, University of Miami Frost School of Music, and Dreyfoos School of the Arts. The Turgeons are increasingly in demand as judges for international, national and regional competitions, most recently for the Chicago Liszt International Piano Competition, Isidor Bajic International Piano Competition (Serbia), Toronto, Windsor-Essex, and Sudbury Kiwanis Music Festivals, Markham Music Festival, as well as the national finals of the Canadian Music Competition.
The Turgeons received Bachelor of Music degrees in piano performance from the University of Toronto, where their teachers included Marietta Orlov and James Anagnoson, along with the coveted Dean's Prize and Forsyth Memorial Scholarship for top graduating pianist (Edward; 1988); Dean's prize and Eaton Graduate award for the top graduate (Anne; 1989). They received Master of Music, Master of Musical Arts and Doctor of Musical Arts degrees from Yale University, as well as prizes for best recital (Anne), best chamber group (Edward) and Dean's Graduate Award (Anne). Their Yale piano professors included Donald Currier, Peter Frankl, Claude Frank and Boris Berman. Additional summer studies at the Banff Centre for Music and Sound included masterclasses with Claude Frank, Jean-Paul Sevilla and Marek Jablonski. The Turgeons are members of Steinway and Sons International Artist Roster.